By Jonathan Miller of Citywire
Recent headlines are relentlessly negative about active fund management. But Citywire's head of research Jonathan Miller finds the true story is strikingly different – for active UK equity fund managers
I couldn't believe it. Purporting that 75% of active UK equity funds underperform, I thought a monstrous typing error had passed through the report's editors. But I was assured this was correct.
They were the findings looking at performance over a decade. I appreciate active management has been struggling in some areas, but the reality is active management in UK equities has been producing stellar performance for investors.
Every research house has its own methodology, indeed so has Citywire, more of which later on. But the analysis I'm referring to is from S&P, based on their SPIVA scorecard. They ensure there is no survivorship bias and allow factors such as style consistency, asset weighted performance and equally weighted performance to be measured.
To reiterate, their numbers stated in the article was 75% of UK equity funds underperformed over 10 years. Citywire's findings are the polar opposite.
Citywire stitches together the performance of fund managers as they move companies as long as they remain in the sector. It's different from the fund angle and the reality is that in the UK All Companies sector, of those individuals with a 10 year track record 68% outperform.
This is based on managers who have an information ratio of zero or more, taking into account all costs. It also includes funds they used to run which are closed – they can't hide from the skeletons in the cupboard. The information ratio is appropriate here as we assign benchmarks at the fund level given some remits for example are purely in large caps.
For those who prefer to take a default index for a sector and see how many have beaten it, the number is still 68%, based on the FTSE All Share (including dividends) as a benchmark. This is based on total returns after costs.
This figure doesn't include mid cap managers who would inflate the numbers on a total return basis due to strong performance. They're carved out into their own sector.
Finally, on an asset-weighted basis, taking the managers with 10 year track records, 75.8% of their assets are run by outperforming managers. Active management is alive and well.
There is a stark comparison with the US equity fund managers: over five years just 10.9% of them outperformed their benchmark. Indices for managers in US equities are selected based on style and the market cap managers invest in, with small and mid-cap managers placed in separate sectors.
This compares to 77.4% of UK equity fund managers over the same time period. No wonder so much money in the US has been flowing out of active mutual US equity funds and into passive funds from the likes of Vanguard and assorted exchange traded funds.
In the UK, stock picking in mid caps and into small caps have been key to helping performance. More recently the general theme has been to be underweight the struggling energy and mining sectors. There's been no escaping this through passive exposure.
The ability to outperform as an active manager isn't therefore just about stock picking skills and where you invest. it's also where you don't invest, where you avoid and not being swayed by the make-up of the index.
Passive can have a role to play in portfolios but even then, looking through the rear-view mirror can prove to be investors' undoing.
The table below shows outperformance of managers tracked globally by Citywire in key sectors, based on them having a positive information ratio, over various time periods.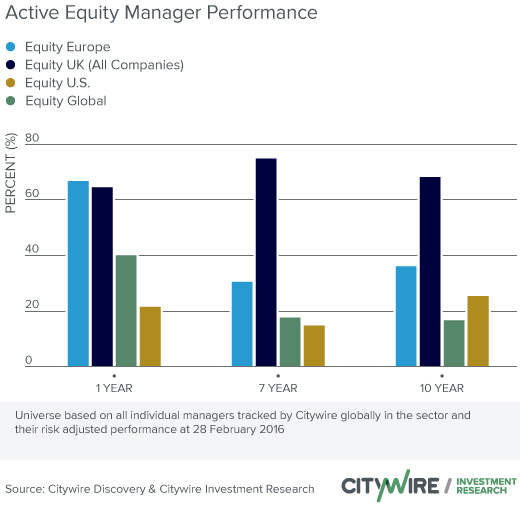 In the US High Yield sector, just 9% outperformed over seven years, hence the rush to passive allocations in this space. This timeframe is significant as it captures the whole of the market rally since March 2009.
But over 12 months it's very different. A massive swing, as 55.1% outperformed, mainly due to shunning the energy and commodity space.
European equity fund managers have also bounced back over the past year but the ability to outperform in the US remains challenging. Global equity managers have been struggling but the changing environment over the last year has seen 40% outperform.
As the investment cycle moves on from the QE induced free lunch, active managers can prove their worth. Even in US equities where valuations around consensus positions are stretched on a number of measures. Remember it's not just about stock picking but also avoiding the landmines.
Citywire fund manager analysis covers timeframes to 28 February 2016